Website Builder
New website editor it's really powerful and you can do things like changing the type of header and footer, fine control over each widget being able to change mostly everything and also save them as templates. Image selection and optimization was taken to other level, now you can add filters, control size, quality, brightness, alt text ... the feature list is huge and also renders 3.5 times faster

Manufacturing and Inventory
The new replenishment screen is also one of the greatest additions. Now we have a comprehensive insight to the way Odoo handles the procurement. Before version 11.0 we had a procurement exception screen that was somehow confusing and as so was removed in that version. But to me it i felt we had lost a window into the way the system generates the request for quotations or the manufacturing orders.

Data Cleaning App
Identification and merging of duplicate records can be automated. Easy setting of automatic formatting and or cleaning/clearing of text fields.

Outlook Plugin
Outlook plugin is also a great addition as there are lot's of customer waiting for something that connects Microsoft world with Odoo. With this new plugin you will be able to create and add your contacts on the fly as well as managing your leads directly on Outlook - Office 365.

Odoo 14 New Spreadsheet


Stay Ahead of the Game
Spreadsheets are one of the most widely used tools in any industry, and now you can take advantage of its numerous functionalities within Odoo.
Yeah, you read that correctly! Making projections, calculating commissions, and extra data analysis with real-time data are now one click away.
Model & Manipulate
Insert your sales revenue, purchase, budgets, subscription, make analysis, historical, current or predictiive views of your numbers.
Always up to date
A no-brainer! As new data is created within your apps, the spreadsheets continuously update themselves without having to export or worry about any integration.
Highlight Information
With the conditional formatting option, you can effortlessly detect critical issues and identify patterns and trends. Easy!
Killer Filtering Options
Add filters based on Date, Relations or Text and always have up-to-date customized information, as different data is quickly shown on the change of criteria.
Graphs
Visual representations help us to understand data easier and quicker. They make large volumes of data, and sometimes complicated ones, properly represented and with authority and clarity. With Odoo Spreadsheet, all of that is possible with up-to-the-minute and integrated data!
A Game Planner
Empower your employees!
Empower decision-making processes!
Empower your company!
Odoo 14 New Website Builder
Odoo is considered all in one business management software that includes applications that are easy to integrate and operate. The ERP itself is all-inclusive and covers more than 35 modules like CRM, Marketing, Accounting, Project management, website, e-commerce site, human resources management, invoicing, points of sale, etc….Odoo is consistently working on its ERP to meet the dynamic business requirements. Let's go ahead and discuss some of the features that will be part of Odoo 14.
Countdown Snippet
This feature will be a significant aspect of website development. For any e-commerce business, the launching part is one of the essential components that keeps blowing the company's oxygen. Through different offers, festival schemes, new product launch, SMEs into e-commerce, keeps on reviving their marketing strategies. The user can add the countdown watch through countdown snippets and increase the website visitor's curiosity for any launch or sale.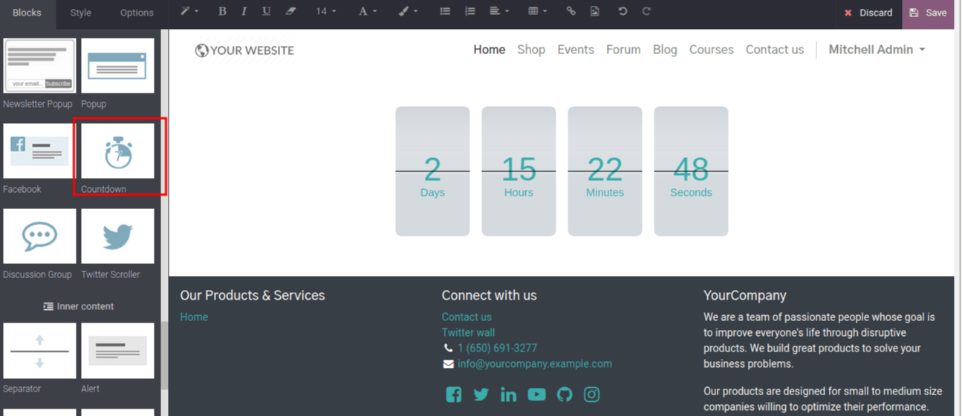 Step Snippet
Odoo 14 will be equipped by step snippet to show the previous and next steps of any process. Like payment or shopping process


.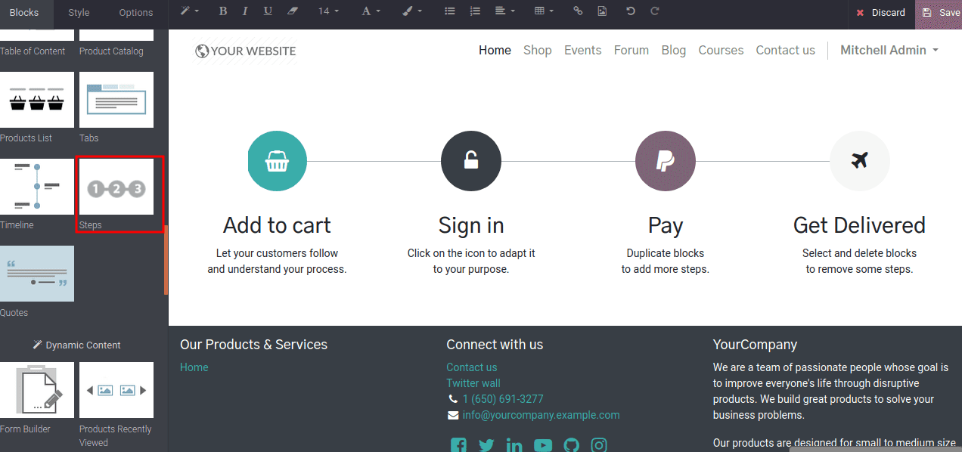 Product Catalog Snippet
The product catalog snippet will help the user to edit the catalog without uploading or downloading any pdf or other file of the catalog. Earlier, if the user wants to make some changes in the catalog, he has to download it, edit it and then upload it. But through product catalog snippet, the user can edit the catalog in the Odoo only.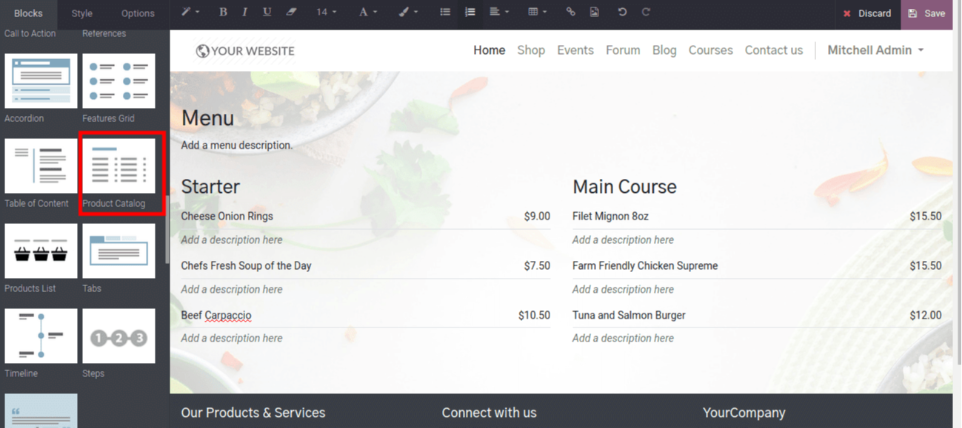 Auto Pop Snippet
Through the Auto Popup snippet in Odoo 14, the user will generate popup from the Odoo website builder only. No need to upload any customized popup. Simply just create a popup from the Odoo auto popup snippet.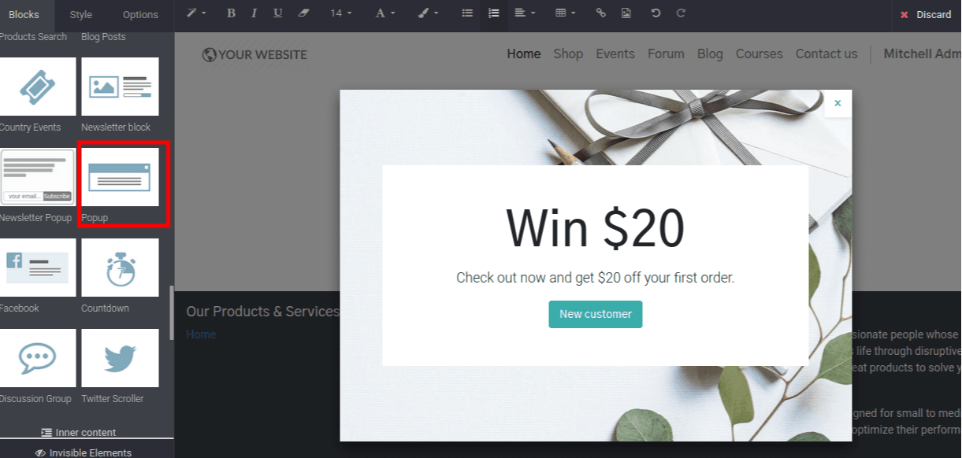 Progressbar Snippet
Through the Progressbar snippet, the user will be able to see the progress of any upload, download, or any information that he is trying to get. This will provide an estimated time for every task to the end-user.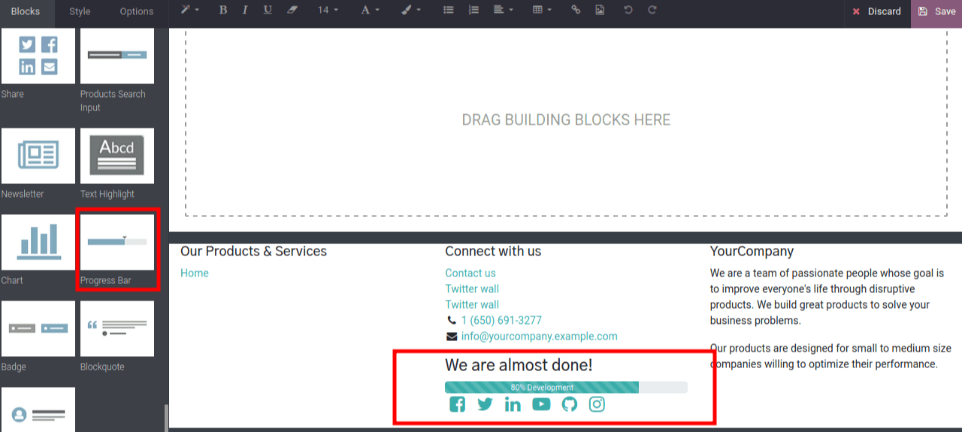 Timeline Snippet
In the website module, the user will be able to see the timeline. This will help the business portray the success story, journey, and product development stages to the clients and website visitors.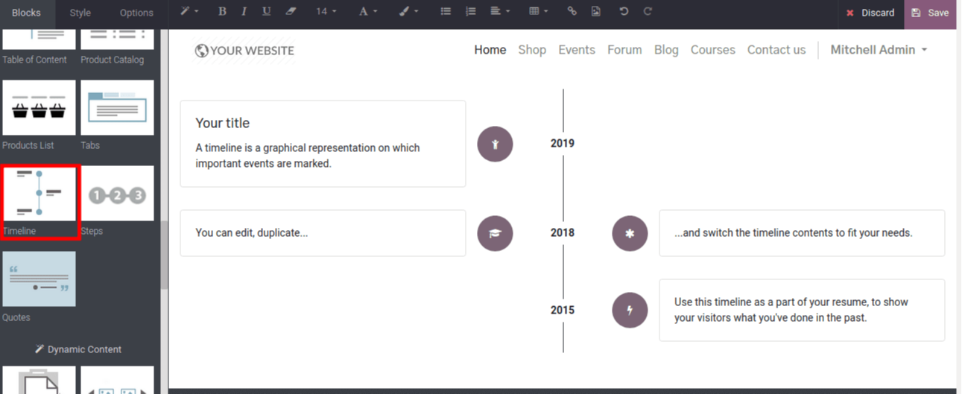 Number Snippet
The user will show the vital information of the business through number snippet through the numbers like 12 countries, 3000+ employees, 24/7 support, 365 days working.


Masonry Snippet
A great feature to website builder. The user will be able to group vital information through tiles and different shapes.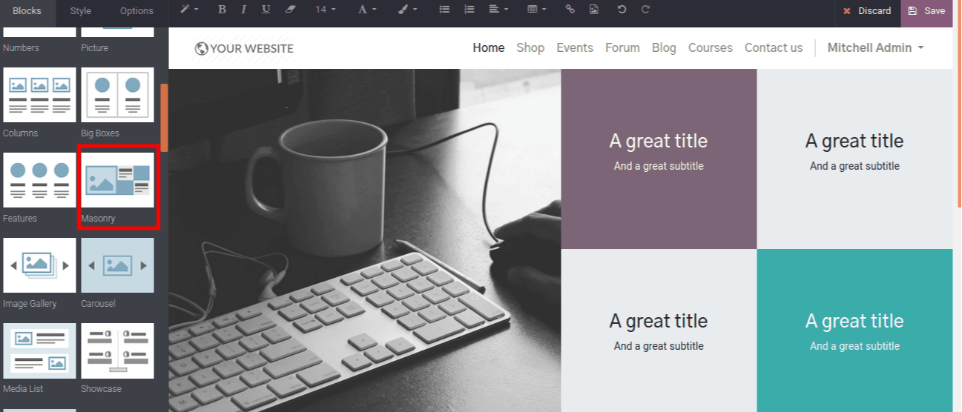 Big Boxes Snippet
In Odoo 14 Website Builder, the user will generate the big boxes that can be used to provide the differentiation between the two products/services.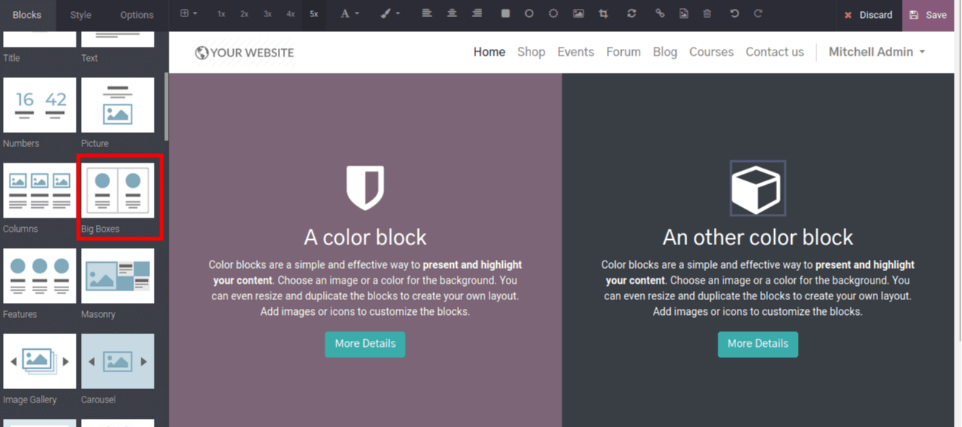 Product List Snippet
This feature will be a breakthrough in the e-commerce industry. Through the product list snippet, the user will be able to add multiple products on the pages.

Chart Snippet
New Snippet is added to define Graphical Information and Charts on Website. Different kinds of charts are available, like Bar Graph, Radar, Pie, Donut..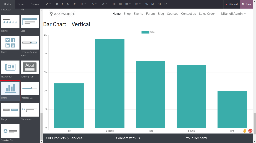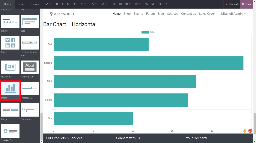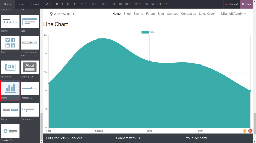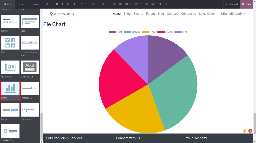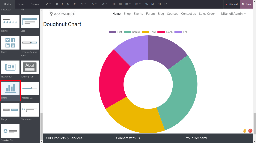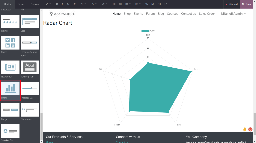 Speaker Bio and Badges Snippet
Through the Speaker Bio you can define Speaker resume, cool stuff for meetings and seminar. The badge snippet you can use to categorize articles based on some tags.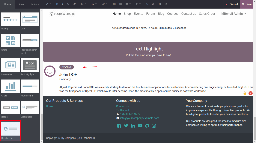 Background Video Snippet

This feature will be a significant aspect of website development. For any other snippet you can add pictures, add and run video in the background.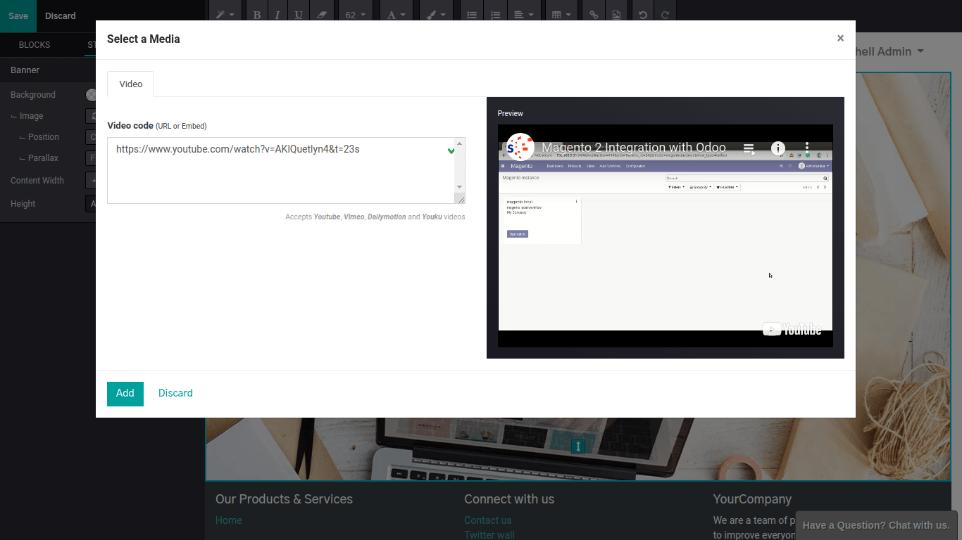 Text and Styling Format Snippet
Odoo 14 will be equipped with the new formatting snippet, with a lot of new options, including changing the header, footer, icons, color scheme in one click.


.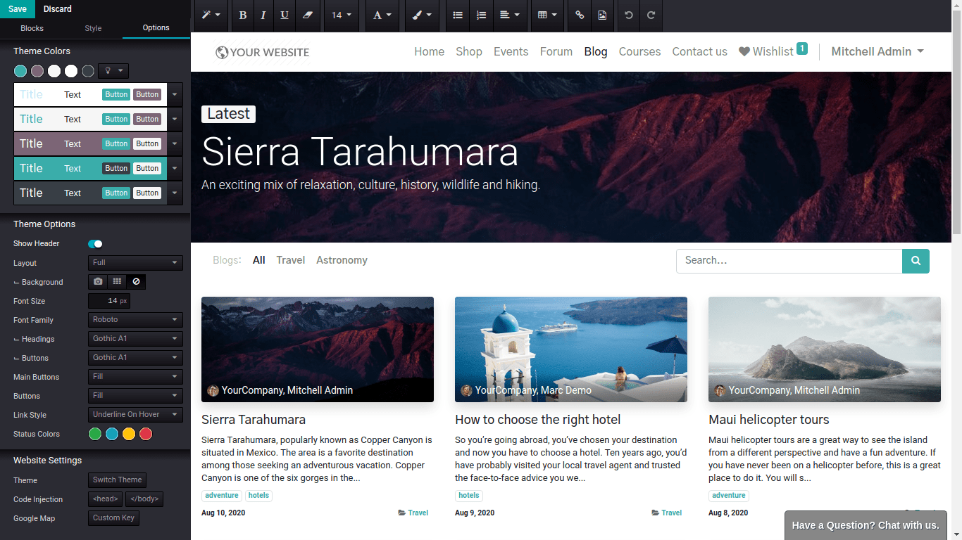 Google Map Snippet
The Google Maps snippet is now supported also in Odoo Community, you just have to add your API key, or use a different one for each page.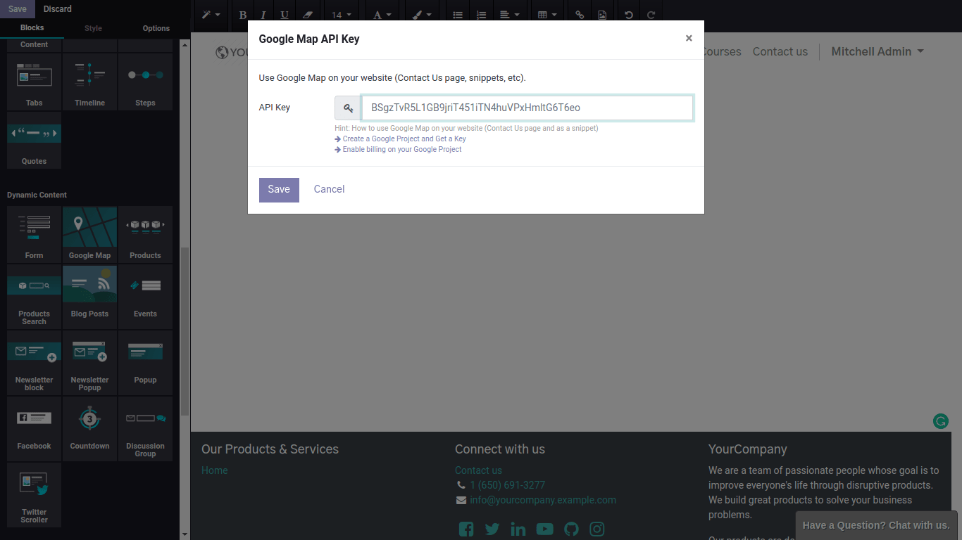 Recaptcha Configuration

In the website module, new configuration for ReCaptcha 3 is added, so you define the minimum scoring level.
Page Redirection
The user will be able to define redirection for old pages and also select the type of redirection: 301 - Moved Permanently or 302 - Moved Temporary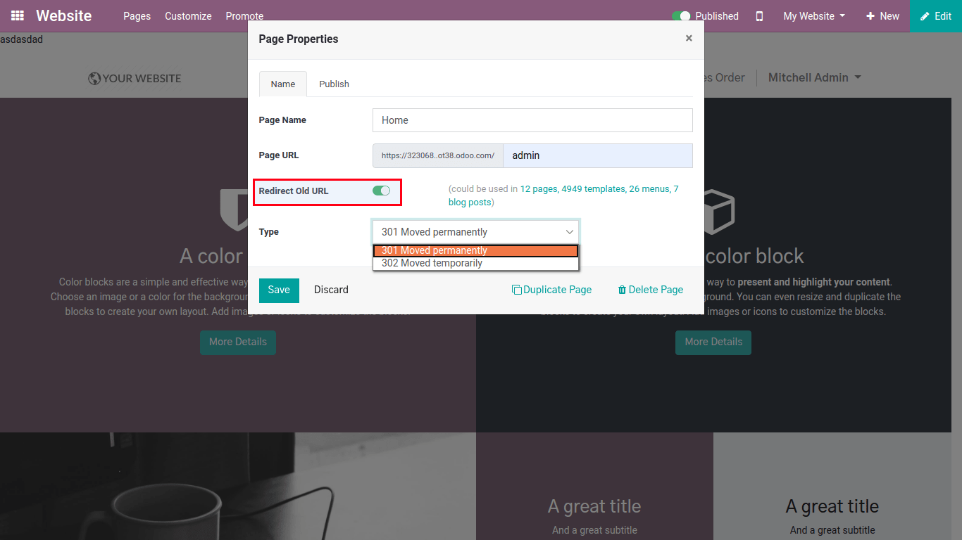 Page Protection
A great feature to is the Page Protection policy, so you can define which users can access it and if you want you can restrict it by a certain password.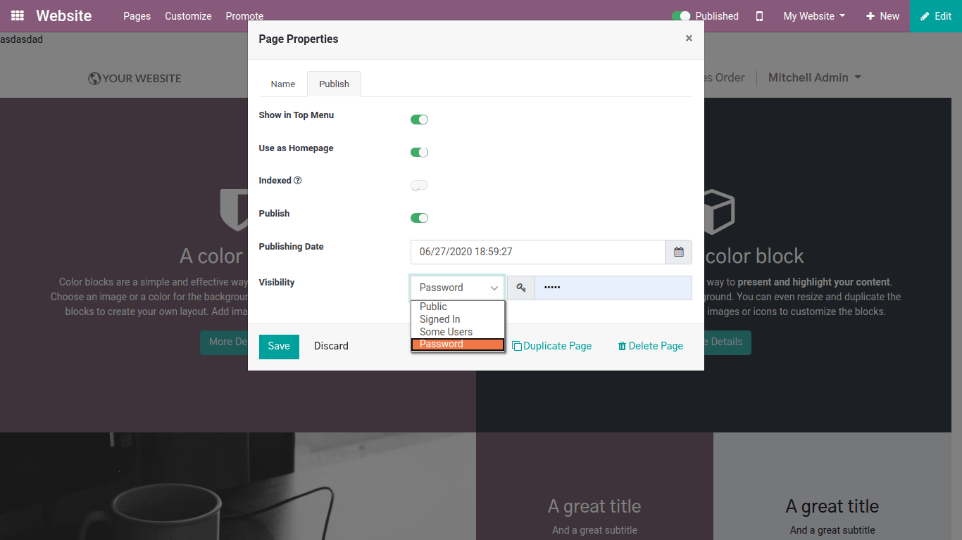 SEO Configuration
In Odoo 14 Configuration includes Google Search Console, Robot.txt file updates, Sitemap file submission to Google.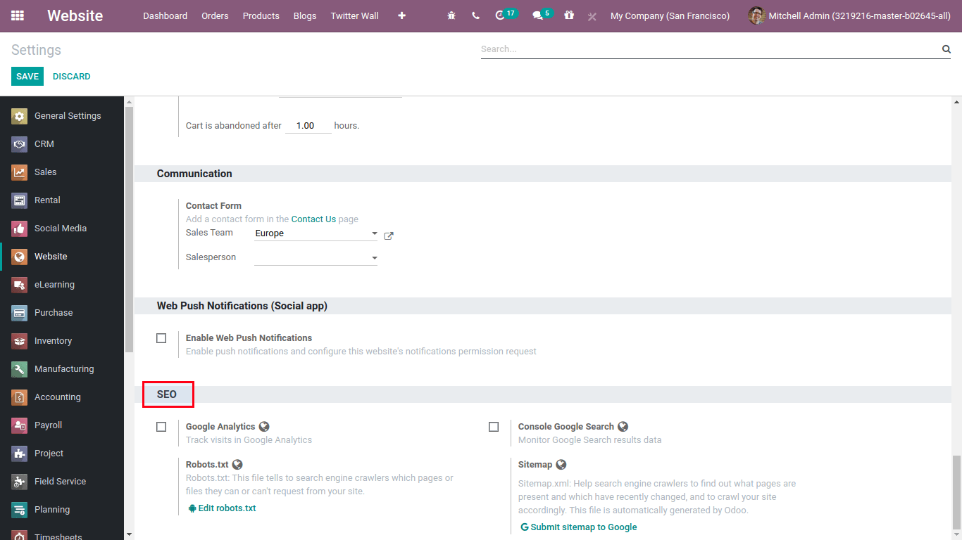 Cookie Configuration
This feature allows you to enable or disable the Cookie Bar on the website side. Separately you can configure the Cookie Policy.